In-game video chat is a feature that is now in beta-testing and available for all Premium users. You can play a game, see each other, and talk all in the same window. If at least one player in your game has a Premium player plan (Silver or Gold), they can enable video chat for the whole group. You can learn how to upgrade your player plan to premium here.
Video chat is available only in the game client via web browsers (Chrome, Firefox, Opera, Edge, Safari) or Tabletopia Steam application (Windows, MacOS). If this feature is available for you (i.e. you are a Premium player OR another Premium player in your game has enabled it) you will see the following invitation: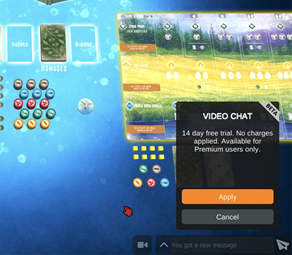 Click Apply to start the 14-day free trial period. When prompted by your browser, you will need to permit Tabletopia to use your webcam and microphone.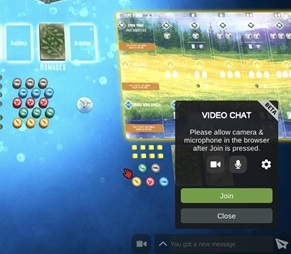 If you do not have a webcam or do not enable it, you will be able to see and hear others, but they will not see and hear you. During the beta-testing period there will not be any additional charge for premium subscribers, so you will be able to extend your trial period every two weeks for free.
After enabling the video chat, it will load and you will start video conferencing with your friends. There are several options available. You can:
Show or hide video
Mute/unmute voice
Arrange players in chat window by row and column
Position this window on the screen by dragging
Choose between available cameras via 'settings' button
Minimize the video chat window (you will still be available to talk to your opponents and hear them)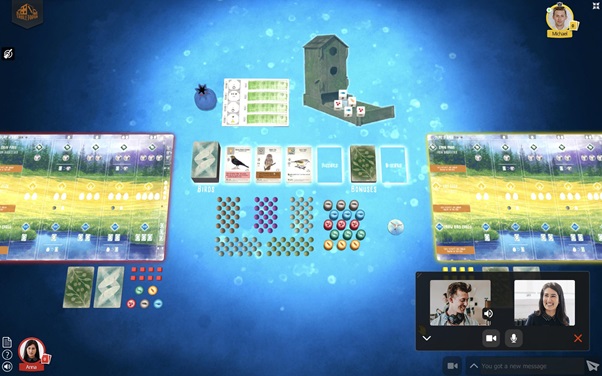 You can disconnect from video chat any time by clicking on the red cross. To join it again, click on the video chat icon near the text chat window.
Only a person with a Premium player plan can enable the video chat in a game room. This person doesn't necessarily need to be the game host; the game can be created by any player. However, if a Premium player enables video chat, every other player will get access to the feature for that gaming session.
Two variants of video chat: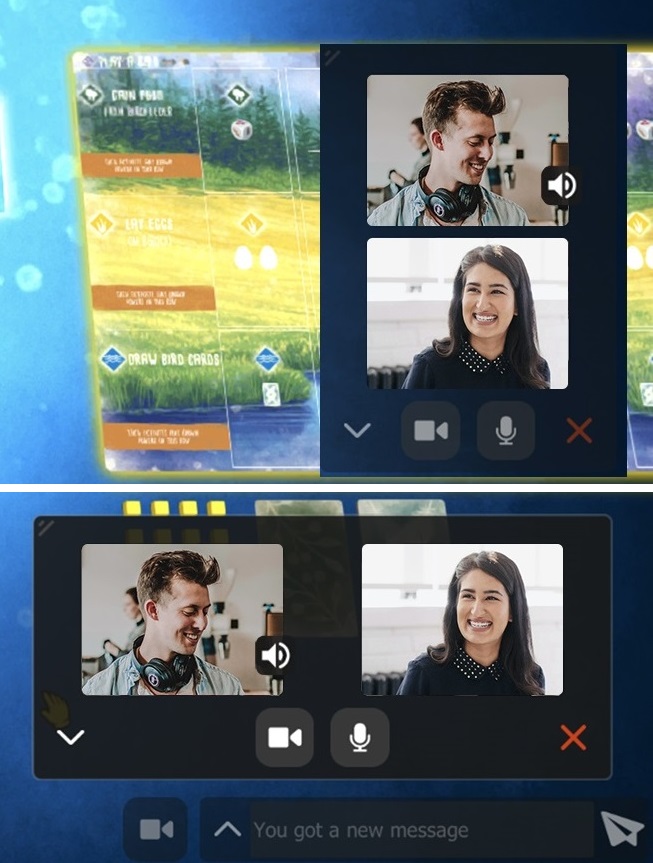 As video chat demands many resources of your system, we strongly recommend using it in the Steam app rather than in a Web browser. Technical constraints of the browsers may cause significant performance slowdown even with two players. We also recommend playing from desktop computers or powerful gaming laptops. Speed of your Internet connection also plays an important role for smooth performance of Tabletopia with enabled video chat.
This feature is still in beta, and you may encounter some technical issues. Please report any problems you may have with the feature to support@tabletopia.com.