(This is FAQ for Players, click here for Game Creators FAQ)
Requirements
What are the minimum and recommended specs required to run Tabletopia?
You can find the Tabletopia system requirements by following this link: (http://help.tabletopia.com/knowledge-base/system-requirements/).
Why is my computer very slow running Tabletopia?
If you have older computer, or one that is not powerful enough, some games with a lot of game components can run slower. If this is case, you can change the graphics quality settings in the main menu of the game client (top left corner).
You do not support my browser? What other options do I have?
Our support for browsers is due to the recent limitations of plug-ins like Unity, Silverlight etc. We do not support Chrome, Edge and soon Opera. However, you can use Firefox, Internet Explorer and Safari. We plan to provide support for all browsers in future with the introduction of WebGL (Unity's alternative to run games over Web). This is currently in development.
Also, in Q1 / Q2 of 2016, we will launch Tabletopia as a downloadable client for Windows & Mac through the Steam platform. And later in 2016 on iOS and Android tablets.
Is a Linux version planned?
Tabletopia is based on the Unity Technologies platform, which does not officially support WebPlayer for Linux. However, during the porting of Tabletopia to Steam, we are aiming primarily for Windows and MacOS, and then Linux afterwards.
I have a strict firewall. Which ports should I open for Tabletopia to work?
The following outgoing ports should be opened for Tabletopia to function well:
UDP: 5055, 5056, 5057
TCP: 843
Communication and languages
What do I need to communicate with other players in the game?
Tabletopia has an in-game chat feature, but internal voice communication (which we highly recommend for any game)  is not yet available. So, for now, we advise you to use Skype or TeamSpeak. Also, there is a new and very advanced voice communication service Discord. Some of our active members have already created a special channel https://discord.gg/0WlbLX4qhPcSJJbP . You can use this for communication during play and to find new worthy opponents.
Are all Tabletopia games in English or there are also other languages?
Right now, the interface is in English and German.  We are planning to translate it into other languages in future.  For the games themselves, it depends on the materials which we get from the publishers – many games in our catalog are language independent, others are now in English, but later we will ask publishers to send us graphic files for all languages which they have. It is possible to create a game setup in any language.
Current set of features and development plans
What is the current stage of Tabletopia?
Tabletopia is in closed beta right now and registration is only available via invitation.
A number of Tabletopia features are not yet enabled or even integrated, such as the reputation system, player levelling, player statistics, matchmaking system and much, much more. We are aiming to improve the game designer's experience initially, and then we will start the next stage which includes implementing additional functions.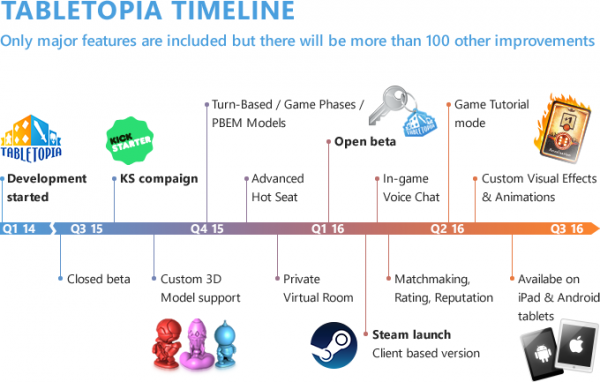 What can I do with Tabletopia now?
You can play any game available during the closed beta. We advise you to check the Player's Guide which we have prepared.
To play a game, open our game catalog, create a new room and invite your colleagues or friends. You can simply share the URL of your game room and your invitee can join you by following the link (no registration is needed). Or you can find players in forums or on the Discord community server https://discord.gg/0WlbLX4qhPcSJJbP.
You can create your own game. Please check the Workshop section in our Help Center for more information. Before doing this, we recommend you to become familiar with the game client, object behavior etc. by playing a couple of games. Please note that it is not allowed to upload / publish any content which you do not have the rights for or permission from the actual rights owner.
You can test your game with a test group or find game testers within Tabletopia's audience.
You can discuss game related topics on Tabletopia's forums.
What can and can't I do as a closed beta player?
At the moment, you can play any open game in our game catalog with your friends with the following limitations:
3 simultaneous game sessions (6 for Game Geek and 10 for Game Master and Clan Master pledges)
Virtual Gaming Room, Advanced hot seat play and Guilds are not ready yet, but they should be available during open beta.
What are the differences between Tabletopia and Tabletop Simulator?
The differences with TableTop Simulator are as follows:
All games on Tabletopia are legally received from Publishers – we have a modern and transparent business model – it is a platform for the whole board games market and gaming community;
Tabletopia is more than just a virtual table – there are other parts to it, like player matching service, reputation and ratings, a workshop with many game objects, tools for publishers etc.;
Tabletopia is a cross platform system – browser based, client based (Steam), iOS and Android;
Usability and aesthetics are a subjective issue. If you are a TableTop Simulator user, you can try out our demos, compare, and then decide yourself which is better for you – we have had very positive feedback so far.
Can multiple players use a single device (similar to 'pass & play' on a tablet)?
Yes! If the game has "open information", you do not need any special functions. For example, you can play now Terra Mystica with your friend sitting near you.
But for games where you need to hide your hand etc. you might need an advanced turn control, an ability to change seats in one click, timers, and so on. Advanced Hot Seat mode (available at a later time for gold members) will allow you to do this.
What is a Virtual gaming room?
The Virtual gaming room is designed for gold subscribers and it gives you:
Management of access to the room – like giving keys to your friends.
Customization of the game client (look and feel).
And most important – you can invite your friends who are not premium subscribers to play any premium game with you (The important bit here is "with you" You cannot just give everybody the keys and allow them to play without you, you need to be one of the players).
As a Gold member, you will get ONE virtual room. If the game is long, you can "save" it and finish later, but you cannot start another game in the same room while one is still in progress. To play two games simultaneously with some other friends (without premium access), the second room can be very helpful. In other words – the KS additional gaming room will not give you premium access for life but it can still be useful.
If you are silver level, your KS virtual room will give you the possibility to also play with people who do not have premium access!
Rules of conduct and privacy
How can I help during the closed beta?
We really appreciate all your feedback during this stage:
Bug reports. To submit a bug, use the special menu in the top right corner of Tabletopia's client, or you can use the 'Submit a bug' form on Tabletopia's Web Portal.
Participating in our surveys. Surveys will be sent to your email address periodically during the closed beta.
Your thoughts and suggestions. Send us an email, or post in our forum. Tell us what do you think.
Can a Tabletopia backer invite people to play before release or can they only play with other Tabletopia backers?
As a backer, it will be possible to play with your friends before release, they do not need to be registered in the system themselves.
What are the rules of conduct?
Don't break the law. Don't take any action that infringes or violates other people's rights, violates the law, or breaches any contract or legal duty you have toward anyone.
Don't lie to people. Don't post information you know is false, misleading, or inaccurate. Don't do anything deceptive or fraudulent.
Don't cheat. Cheating is not good for anyone.
Don't kick other people from games without a good reason.
Don't curse or swear at the other players.
Don't victimize anyone. Don't do anything threatening, abusive, harassing, defamatory, libelous, tortious, obscene, profane, or invasive of another person's privacy.
Don't harm anyone's computer. Don't distribute software viruses, or anything else (code, films, programs) designed to interfere with the proper function of any software, hardware, or equipment on the site.
Don't abuse the personal information of others. When you use Tabletopia — especially if you create a successful project — you may receive information about other users, including things like their names, email addresses, and postal addresses. Don't use it for other purposes, and don't abuse it.
Don't try to interfere with the proper workings of Tabletopia.
Don't bypass any measures we've put in place to secure Tabletopia.
Don't try to damage or get unauthorized access to any system, data, password, or other information, whether it belongs to Tabletopia or another party.
Don't take any action that imposes an unreasonable load on our infrastructure, or on our third-party providers. (We reserve the right to determine what's reasonable.)
Don't use any kind of software or device (whether it's manual or automated) to "crawl" or "spider" any part of the site.
Don't reverse engineer any aspect of Tabletopia in an effort to access things like source code, underlying ideas, or algorithms.
Don't post illegal content.
What is our privacy policy ?
You can find our privacy policy here https://beta.tabletopia.com/pages/privacy-policy
Game Portal
How can I change my user name displayed in the portal, games and forum?
You can change your display name on your Profile page. Go to http://beta.tabletopia.com/ and open your Profile page (your name in the upper right part of the page → Profile). Then click your name on the left under your photo, change it and press Enter. This will change your displayed name in the portal, games, and forum. Your actual login will remain unchanged.
How do I change my password?
To change your password, follow the link (http://beta.tabletopia.com/login/resetpassword) and enter your Login or email.
How can I see my active subscriptions?
On your Profile page (go here and click your name in the upper right part of the screen → Profile), your subscriptions are listed under your avatar in the left part of the screen.
What is the button 'Activate subscription' in my profile used for?
You can activate your additional codes using this button. You do not need to activate the code you have signed up with.
How to sort the game list?
The default sorting for the list of games is done by Popularity in descending order, but you can change this to sorting by Name, Modified, or Online users. Just click 'Popularity' in the upper right part of the page and select a different option. Descending order can be changed to ascending by clicking '↑'.
Why is the 'Watch or play' button not active in a play zone?
You need to enter your name in the field on the right or log in. It is not possible to play a game without a name.
I am getting an error "You have reached a limit for opened game sessions". What can I do?
You have reached the limit for your account. You need to delete one or more opened rooms in the opened window or in your Profile.
Game Client
How to control the camera?
To move the camera, use the cursor keys, or W S A D, or click and drag with your left mouse button. To rotate the camera, click and drag with your right mouse button. To zoom the camera, use + and – keys or scroll your mouse wheel. You can also save your current camera position by pressing Shift + number key. To move back to the previously saved position, press that number key.
I have entered a game room, but I can not move anything. What should I do?
As a spectator in a room, you can not interact with game objects. You need to take a seat (click one of the color '+' at the upper part of the screen).
I have entered a game room as spectator, but all the seats are taken by offline players. What should I do?
You may try to kick one of the offline players, if you see they are not playing. Just right-сlick one of the player avatars and choose 'Kick' in the menu. Please do not abuse this feature, only kick players when you are totally sure they are not going to continue the game. In future, this feature will be available only to the 'Host' of the game room.
How to interact with game components (objects)?
Most of the interaction can be done by clicking and dragging the objects with your left mouse button. Clicking the right mouse button will invoke a radial menu with options which differ according to the object you have clicked.
How to put a card or other object into my hand?
Drag the object to the bottom of the screen and release the dragged object, when a highlighted area emerges on the bottom.  Note that this feature works better when playing in full screen mode (recommended).
Why can I not put an object into the hand by dragging it to the bottom of the screen?
First, check to see if your hand is hidden or not. Some game objects might be restricted by designer of the game so that they cannot be put into your hand. Also, in some games, the hand is disabled completely.
How do I hide/show my hand?
To toggle hide/show your hand press 'H' on the keyboard or left-click your avatar.  Note that this only shows your hand to you on screen, not to the other players.
How do I put a card from my hand on the table face down?
You can flip a card in your hand before placing it using the F key, or right mouse click and choose Flip in the menu. Then simply drag the card from your hand onto the table. The other players would not be able to see the card face.
How do I create a stack or a deck?
To create a stack or a deck just place the first card (tile or token) somewhere on the table, then select all the other cards (tiles or tokens) and drag them to the first one. Wait for it to become highlighted and release the mouse button. The deck or stack will be automatically formed. Note that this feature might be disabled by the game designer. Also, all the objects should be of the same size and type in order to use this feature.
How do I move a bag, a stack or a deck?
Click on the object once, and then click and drag it to the new position.
How do I freely rotate a game object?
Hold the 'Ctrl' key and drag an object with left mouse button. Note that the game designer can disable this feature in the game.
How do I select several objects at once?
Select one or more components by pressing Shift and dragging a box around them, or clicking the left mouse button on each object while holding down shift.
How do I take several objects from a bag without showing them to the other players?
Right click the bag and choose Draw in the menu, then choose the number of objects you are drawing.
How do I put one object under another?
First, place one object on top of the other, then hover the mouse cursor over the top object and press the 'U' key. Also, to put a card to the bottom of a deck you can hold Shift while adding the card.
How do I prevent a game object to be accidentally moved?
You can lock the object by pressing the 'L' key or using the radial menu invoked by right mouse click. To unlock the object, just press 'L' again or use the radial menu.
Is it possible to Undo/Redo my action?
There is currently no Undo/Redo functions in the Tabletopia game client. We are planning to add them in future.
How do I save the game progress?
You do not need to save the game progress. It is automatically saved. You can leave the game room any time and continue to play at a later time.  The game will carry on from where you left off.
The game loading indicator freezes or does not load at all / game hangs or crashes. What can I do?
Make sure you have installed the Unity Web Player and the plugin is enabled in your browser (Firefox, Safari, Internet Explorer).
Clean Unity cache by following this link: http://unity3d.com/webplayer/setup
If cleaning the cache does not help, please contact our support email: support@tabletopia.com providing the following information:
Your system specifications:
Version of the operating system (OS).
Processor type.
Total available memory (RAM).
Full version of your browser.
In Windows, you can find your system specifications opening Control Panel → System or use programs like dxdiag or cpu-z.
In Mac OS, you can find your system specifications by clicking the Apple logo in the upper left hand corner of the screen, and then selecting the "About this Mac" menu option.
Unity log:
1. Run the game in Firefox and wait until the crash.
2. Do not close browser tab with crashed game.
3. Open the last log file:
Mac: ~/Library/Logs/Unity/WebPlayer.log
Win: ~\Users\username\AppData\Local\Temp\UnityWebPlayer\log
4. Copy the contents of the log file and send it to us (if the log is too big​, ​you can use Pastebin or attach the log file to an email).