The standard Tabletopia plans are purchased on a monthly basis on tabletopia.com or Steam. There is a free plan (Bronze) and two plans that are available for a fee (Silver and Gold).
Viewing Your Plan

To see your current player plan, go to your Profile on Tabletopia.
To see details of your plan, hover the cursor over the "?" next to the plan name. You will get full information on the features you have now for the plan you select.
Plan Features and Options
Player plans give access to various Playground features and options respectively.
See below for features of various player plans available: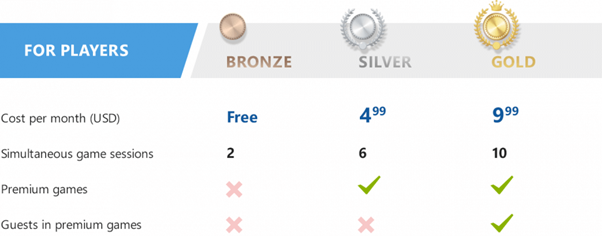 Premium player plans give you full access to the most demanded board games.
There are 60+ premium games and several hundreds premium setups in free games (for example, setups for maximum player counts or including expansions).
With the Silver plan you will be able to play premium games, while the Gold plan allows you to invite players with Bronze plan or unregistered users (guests) to all your games.
Moreover, with a Premium account, you can simultaneously keep open up to 6 (Silver) or up to 10 (Gold) gaming sessions and come back to your games at any time.
Managing Your Plan
You can upgrade or downgrade your plan at any moment.
To upgrade your Bronze plan:

1.Go to your Profile on tabletopia.com.

2.Click Upgrade next to the plan name. A window will appear where you will be able to upgrade to a premium plan and proceed to the payment form.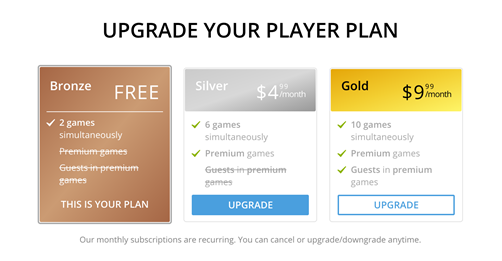 To downgrade your Premium (Silver or Gold) plan:
1.Go to your Profile on tabletopia.com.

2.Click Manage next to the plan name. A window will appear where you will be able to switch to the Bronze plan to cancel your subscription.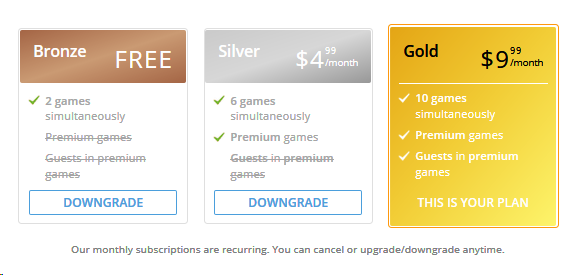 Note: If you downgrade your premium plan and cancel your subscription, you will keep the remaining premium time. Your subscription will simply not renew for the next month.
For example, if you subscribe to the Gold account on 14/09 and cancel your subscription on 20/09, you will have you Gold features up until 14/10.
Free Trial
If you are new to Tabletopia, you can try our Premium plans for free – go to your Profile on Tabletopia and click Upgrade or click

on the homepage.
You will see the following: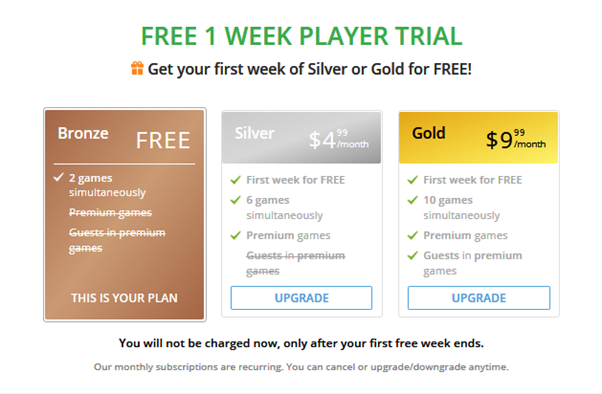 Choose the Plan (Silver or Gold), click Upgrade, enter your card information, and you will get a free week access to the chosen Premium plan.
After the free week is over, a monthly payment will be charged.
You can cancel your subscription at any time in your profile (Manage button).
Subscribing via Steam
If you subscribed via Steam, you cannot cancel the subscription via Tabletopia website.
You can read more about managing your subscription via Steam here.
Note that Steam subscriptions are managed according to Steam terms of use.