About Game Pieces

Game Pieces are various volumetric (3D) objects which are usually made of wood or plastic in board games.
Among them are cubes, cylinders, discs, and, of course, meeples, the famous symbols of board games.
Typically, these objects serve as resources or characters but can also be used as markers.
Creating 3D Game Pieces
The various ready-to-use objects are available in the Workshop: go to Workshop > Objects to see all pieces you can use.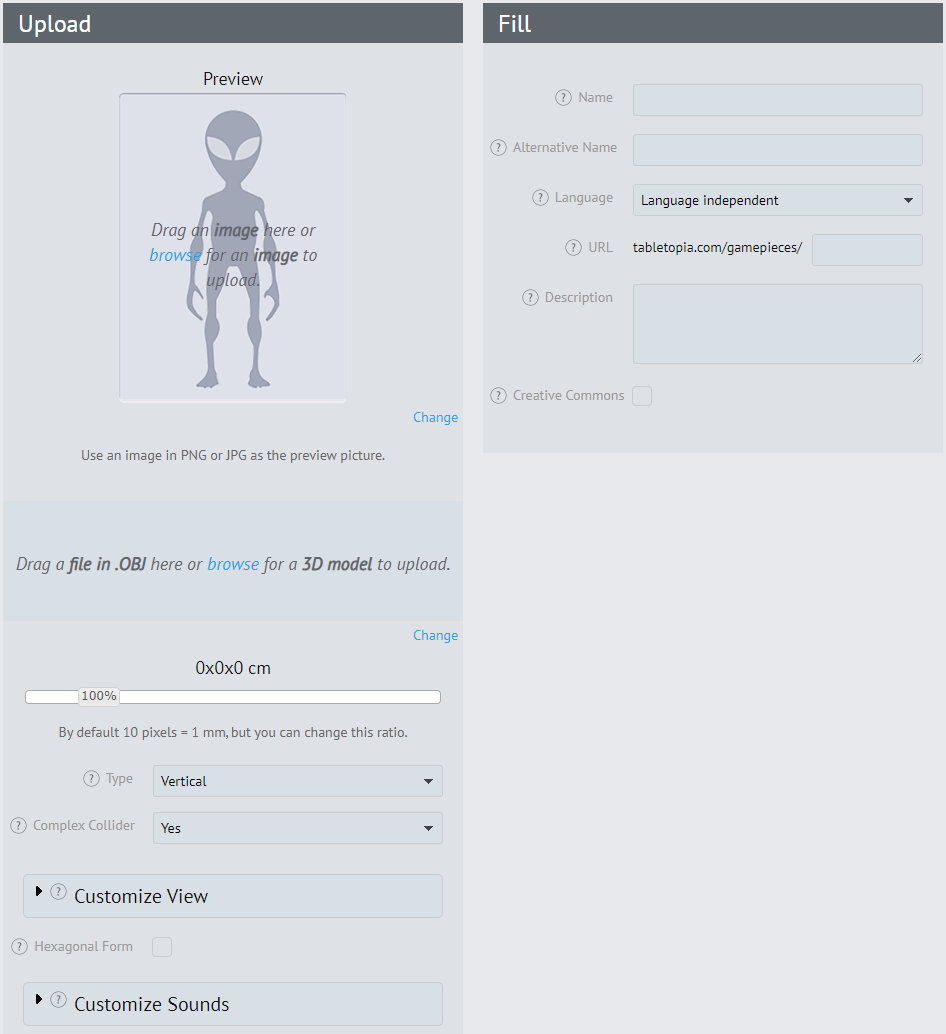 Or you can create your own pieces (this feature is available to users with Designer Pro account only, see Tabletopia Designer Plans):
Click Create Object > Game Piece in Workshop.
Fill in all the necessary fields in the right-hand panel.
Upload an .OBJ file. See below for requirements.
Customize the texture, material of the piece, if needed.
Click Publish.
Requirements for single 3D model
Model format: .OBJ. Single mesh, low poly. One .OBJ file per model.
Scalee: 1 world unit = 1 cm (centimeter) = 0.393 inches.
Optional: single diffuse texture, single normal map, single glow map.
Recommended size: 512x512px.
Center of the model must be located near the geometrical center.
Limitation #1: Vertices per model must be ~ 3-5K, max allowed 30K vertices per model (only in case if one model is using in setup).
Limitation #2: Unity must be able to automatically generate a collider mesh using less than 255 polygons (you can simplify and test your model in Unity to achieve this).
The model base needs to be flat.
Tip: If you need some special game piece or die for your game which can not be done using other objects, contact us at info@tabletopia.com.