About Counters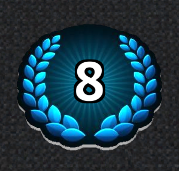 A counter allows players to keep track of different parameters during your game, like victory points, health, money, and any other types of resources.
Counters can be placed on the table or the surface and allow simple adjustment by players.
Features:
Size: up to 98×91 mm
Thickness: range 0.2-50 mm
Font size: range 1-100 mm (default size: 10 mm)
The value of a counter may be modified by players. It is always centered in the middle
Using Counters
You can use counters in a number of different ways:
Resource Counter. Sometimes it is easier for a player to track the resources they have with a counter instead of number of tokens. It is particularly useful when the number of resources to manage is too big.

Auction Counter. Many games have auction mechanics which can be easily implemented by different color counters — every player has his own colored counter which they use to make a bet.
Counter Tokens. You may use this object if there is a need to have some tokens with a changeable number in your game. The number may represent some characteristic of a token e.g. health, number of shots, etc.
Victory Points Counter. Victory point tracks and numerous tokens may be interchanged with one or several victory point counters. It can make the game less fiddly and save players time.

Also read about Picture Counter.