About Free and Premium Games
Games on Tabletopia can have three statuses:
Free: For personal use only.

The game is closed and available to its creator or in a special play zone created and shared by the creator. Such games can be used for playtesting, demonstration to partners, etc. See

Opening andSharing Games

for details about play zones.

Free: Available to all users.

The game is open and available in the All Games catalog on Tabletopia. Any registered player can play the game. Games are opened by Tabletopia moderators and need to comply with several requirements, see

Requirements for Public Games on Tabletopia

and

Opening and Sharing Games

. These games can be used for worldwide promotion and marketing campaigns, etc.

Premium: Available to paying users.

The game is open and available in the All Games catalog but features premium setups available to Premium users only. Such games take part in our monetization program.

About Monetization
Our monetization model is based on 70/30 revenue share, where 70% of revenue is divided between publishers.
Note that you are not required to have a paid account to take part in the monetization program.
70% of payment received from premium users is divided between premium games proportional to the time spent on each game per user.
For example:
User spent 1 hour on Game 1, and 1 hour on Game 2. The publisher's part of the payment (70%) is divided 50%/50% between these two games. 
User spent 1 hour on Game 1, and 3 hours on Game 2. The publisher's part of the payment (70%) is divided 25%/75% between these two games. 
The publisher receives royalty equal to the sum of each payment received from all premium users who played the game. Note that this metric is calculated for each premium user separately and then summed together.
How to Apply for Premium Status
We would like to ensure that games in the Premium catalog attract as many players as possible and for that they need to fulfill various requirements.
Fulfilling Requirements
Tabletopia Team decides whether a game is eligible for the Premium catalog.
Such games need to comply with the requirements for public games (see Requirements for Public Games on Tabletopia) and also must be appealing to the Premium audience. The criteria include:
Gameplay

Visuals

Digital implementation on the platform
Each game is evaluated and discussed individually. If you have a game you would like to monetize on Tabletopia, contact us at info@tabletopia.com.
Dividing Setups
If your game is eligible, together with Tabletopia you will decide which setups you want to make Premium and which keep free.
You can make the whole game Premium but we strongly recommend making at least introductory setups free to give players a taste of the gameplay. Also, free setups attract much more audience.
Setups can be divided in various ways, see below for examples.
Examples of Premium Setups
Some examples of dividing the setups for Premium games include:
The free setups include only some of the factions featured in the game and bonus tiles, designed specially for the introductory games and described in the rules. If players want to use all factions or add promo content, they must play Premium setups.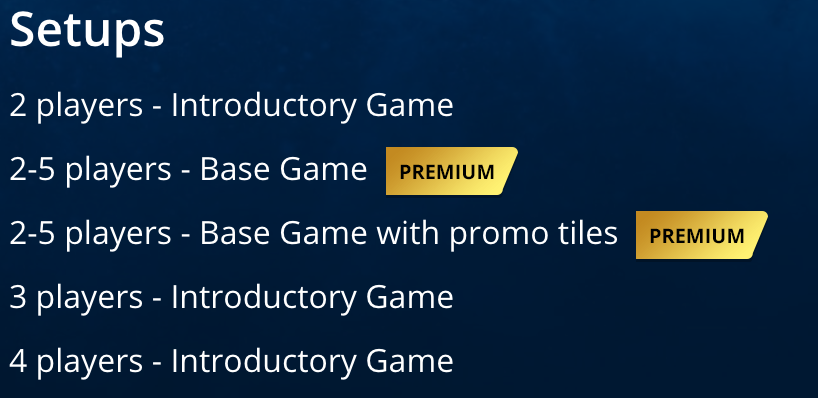 The two-player version of the game is free, while all other player counts are paid.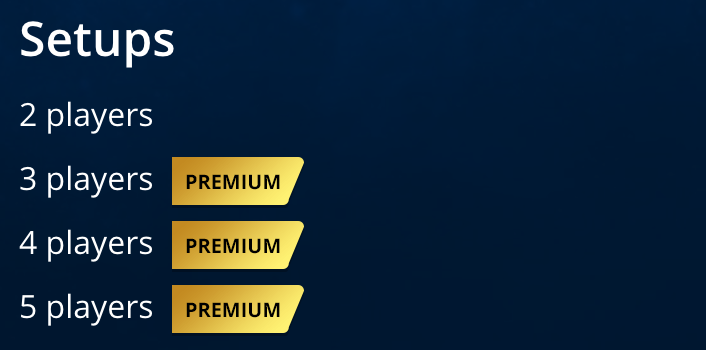 The setups featuring content from base game + expansions are paid, while the basic game at all player counts is free.
Tip: You can also add expansions as separate titles to the catalog and make them full Premium, see for example Imperial Settlers: Atlanteans.