If you wish to make your game public to all Tabletopia users (see Opening and Sharing Games), you will need to check that it meets several requirements that will ensure that the game is presented in the catalog in the best possible way. See also: Game Designer Checklist.
Also note that Tabletopia team can import your game for you or enhance it with maximum ergonomics and visual appeal in mind. See Importing Your Game with Help of Tabletopia Team.
Game Page Requirements
The page of a public game must be complete and contain all following elements. See Filling In a Game Form for details on how to add them:
Unique name.

Make sure the name and URL are used only for your game. This will prevent errors on the portal.

Description.

One or two succinct paragraphs about the game and its mechanics are a must. Let players know about your game and why they need to play it or tell about the game's setting.

Banner and 3D box images.

These are the face of your game and of your game's page, make them bright and appealing.

Rules in PDF.

Rules are most important because players need to know how to play the game. We encourage you to add rules in all available languages. Also consider adding videos with rules explanation or playthroughs to the gallery, if available.

Gallery.

2+ screenshots of the Tabletopia version are required. The first image of the gallery will also be used as the background for all lobbies created for this game. Note that moderators can decline your game for publishing if it have graphic design issues (but you're still free to use Play Zone links to share game with audience).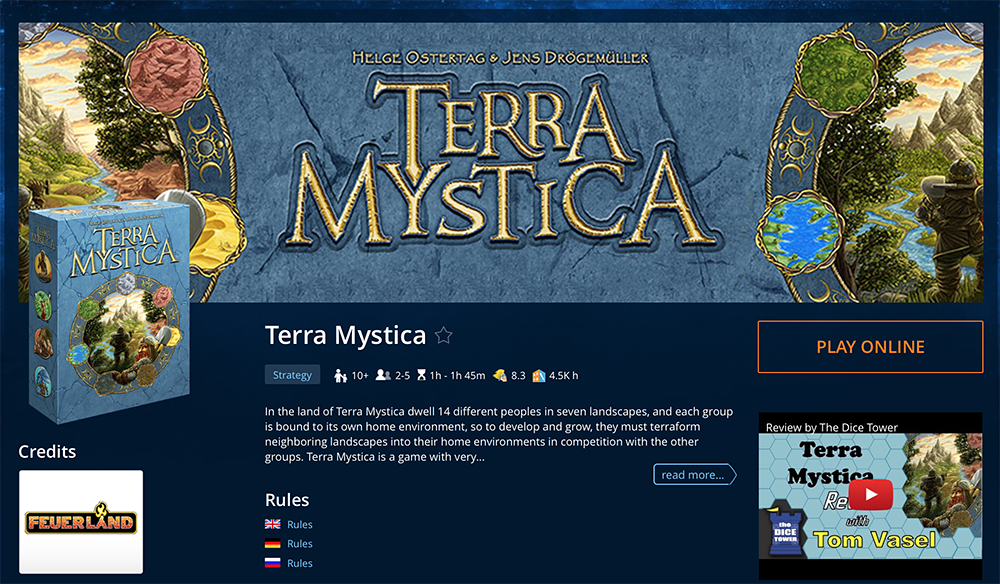 Note that if you fail to add these details when submitting the game for moderation, you will be asked to do so by our game moderators before they can open the game.
Other Requirements
Other requirements concern game's functionality in different browsers, license and agreements, etc.
Display in browsers.

Make sure that your game can be opened in all supported browsers: IE, Safari, Chrome. Pay special attention to Chrome, as it uses WebGL technology that has specific requirements to graphics. Use scaling whenever it is possible for your game components, read more in

Preparing Graphics

.

Agreement for Premium games.

If you make any of the game's setups Premium, make sure to have contacted Tabletopia at

info@tabletopia.com

and signed an agreement with us beforehand. Tabletopia decides which games are featured in the Premium catalog, and each game is discussed individually. See also

Licence Summary

.

License.

Make sure to add only games that were created and designed by you or in case you have legal rights to publish them. Our moderators will be forced to delete all games that are added without the permission of their right-holders.

Prohibited content.

Note that adult content is prohibited on Tabletopia, as is any content which encourages violence, criminal behaviour, etc.
Also see our Usability Guide for Creating Games on Tabletopia for more information.