Private Demos and Prototyping
It is possible to upload your game to the Tabletopia Workshop without publishing it publicly. While in the Workshop, your game can be shared with only people you invite or give the link to. This is a good way to give one-on-one demos to reviewers or allow playtesters to give feedback on the game. To do this, you will create a play zone.
To create a play zone: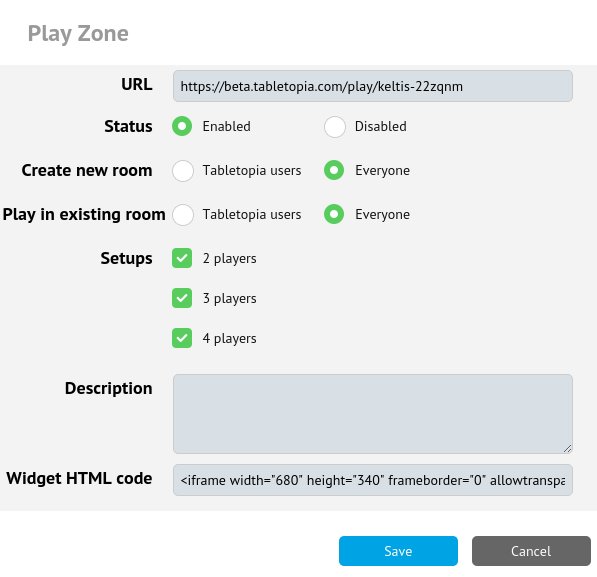 Click

Create Play Zone

in the Play Zones section on the game's page.

Set the following settings:

Select the setups you want to include (it does not matter if they are public or private).

Click

Save

.
Use the generated link to create a room that you can share with your partners:
Send the master link directly so that your partners can create their own game rooms.

Or use this link first to create a game room and then send the URL for that room to them. They will join it for free.
To delete a play zone, hover the cursor over the zone link and click on a "x" icon next to it.
Livestreaming with Tabletopia
NOTE: Our livestreams are currently on hold while we update our channel (as of 27-10-21). However we encourage you to run your own and let us know – we're happy to promote them!
We regularly run live game playthroughs on our Twitch channel. We would love to have you join us to show off your Kickstarter, product, or game. If there is a content creator that's excited about your game, we welcome you to have them participate as well! Please get in touch with Mark at mark@tabletopia.com to express your interest.
Please note that the livestreaming schedule is booked in advance and availability to coincide with your project's marketing may not be available.
Livestreams done this way will be shared on social media, and a downloadable copy of the stream can be made available for you to use on your own social channels and advertising on request.
Learn & Play games with Tabletopia
We all know the feeling when you want to play a game, but nobody knows the rules in your group. To prevent the battle of reading pages of instructions, we are running special events with publishers and game designers. It is also a great opportunity to find new friends while playing a newly learned game.
What is Learn & Play?
These events have the following structure:
A Learn session where you can watch a live stream on Twitch, Twitter, or Facebook and learn the rules for a game;

A Play session, where all the viewers can go to our Discord channel to the special #learn-and-play chat;

In this chat you can find other people that were visiting the Learn session, so they know the rules as you do;

Post a link to the table in #learn-and-play chat, find opponents and together with them go to the #learn-and-play voice room #1, #2 etc.;

At any point you can ask any questions about the rules in a #learn-and-play chat.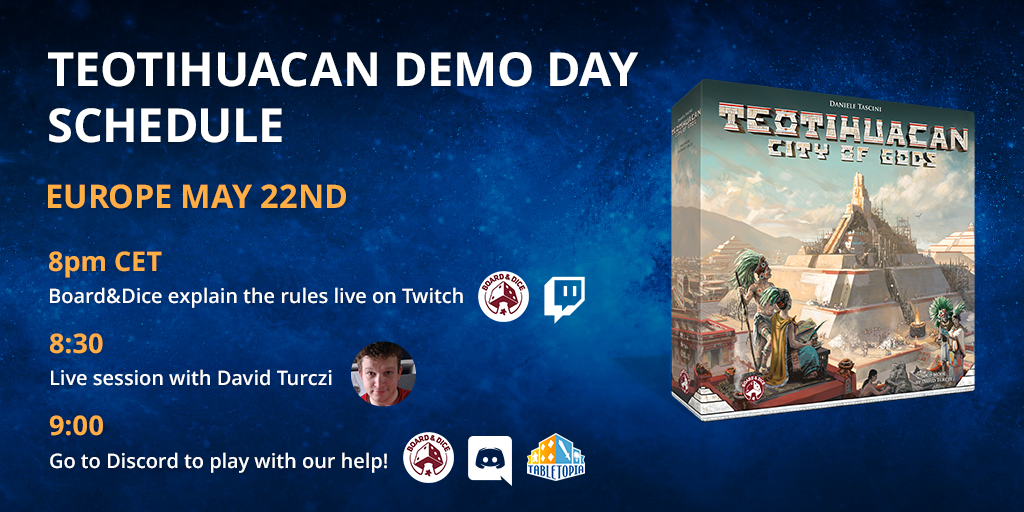 What are the Benefits for the Publisher?
Direct communication with gamers;

Visibility for the game on Tabletopia: article in news section, newsletter, and social media mentions;

Tabletopia has more than 1 million registered users and 200,000 active players;
Games on Tabletopia can receive 1000s of hours of playtime by potential customers who go on to buy the physical product/Kickstarter

Potential space for advertising a special offer for a physical copy of the game;

Banner space on the front page of Tabletopia

What do We Need From the Publisher?
An announcement in social media, website, and newsletter;

Guest for the stream (game designer, influencer);

A host who can live stream the process of rules explanation;

A person who can answer the questions regarding the rules and game itself in twitch while the stream is online and during the next 1 hour in Discord #learn-and-play chat.